The Fishy, Rocky, Home Page of:
OVER 500,000 SERVED SINCE 10/95!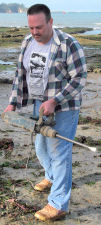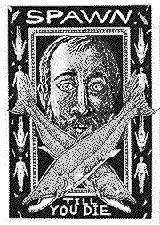 © Ray Troll 1987
This is me with my trusty demolition hammer :D And my favorite drawing by my favorite fish nut artiste (Ray Troll). Welcome to my home page!

NEWS FLASH
Oregon Public Broadcasting (OPB)'s TV show Oregon Field Guide has done a story on thunderegg hunting that aired on October 31st, 2013! We were featured digging thundereggs at the McDonald Ranch in Ashwood, OR, cutting and polishing the egg, and many of our specimens were shown. There's lots of great info and footage of thunderegg enthusiasts at Richardson's Ranch in Madras OR, one of the premier thunderegg digging locations anywhere. The episode is available here!
The major feature of my home page is to provide a home for the FIRST, BIGGEST, and BEST Oregon Rockhounding page on the WWW, Ore-Rock-On (OREgon ROCKhounds ONline) which features the rocks, minerals, and fossils, of Oregon & Washington (and some in Idaho and (gulp) northern Cali) These pages have lotsa way kewl rockhounding info and pics of my rocks!

FEATURED IN THE NOVEMBER 1998 ROCK & GEM MAGAZINE! CHECK IT OUT!

COOL Features!
Email me to communicate some Positive Feedback to Tim@OreRockOn.com (this is NOT my email address, this is here for the SPAMbots. Click the FEEDBACK icon to email me) about my cool page or Ore-Rock-On!
Search here for something else rocky...
"These hair strands here...each one's a vibration and every one's supposed to be good...whoops, there goes one." - Jimi Hendrix. I love that quote, and I don't know why :)

Copyright © 1997 - 2022
Tim Fisher
Users may download this World Wide Web page for personal use only. Unauthorized copying or distribution of this page or any of its contents without the express permission of the author is expressly forbidden.