Lapidary Arts Instruction
Due to the COVID pandemic I won't be offering any instructions sessions until you and I both get vaccinated and enough time has passed for us both to be fully immunized! You can certainly inquire using the contact form below and we can chat about what to expect on the phone.
After so many "how do I do this" questions over the last couple decades I've decided to give up some of my trade secrets! I have a lot of equipment crammed into my shop so I can offer more or less complete instruction on how to get from a boring "rock" to a piece of art. The instructions I can offer are pretty specific to the equipment I have and my level of expertise. We can do any combination of the following:
Cutting/slabbing rough rock: at any one time I have a minimum of 6(!) rock saws going so we can cut in half or slab just about any size rock. I have literally tons of rocks to choose from. They aren't free but my usual prices are very low in the first place. I have a lot of choices of agate, jasper, petrified wood, obsidian, and thundereggs. If you want to do something exotic or one of your own rocks, bring it along and we'll see if it's suitable. At this time I have a Rock Rascal 6", Lortone 12" trim saws and 14", 16", 18" and 24" Highland Park slab saws. They are all pretty standard saws and the techniques are generally applicable to most other saw brands. We'll go through saw setup, oil, blades, maintenance, general care and feeding, and operating techniques. I specialize in refurbishing used equipment so I have a lot of advice to give if you bought a used piece (this includes cabochon machines, flat laps, tumblers saws, sanders, etc.) and want to get it in tip top shape. Minimum length of 2 hours.
Making flat polished display pieces: I have equipment to make a perfectly flat piece with the highest shine possible: an overhead dry sander and a polishing wheel. There are many methods and specialized equipment to do a flat, but I have found that these 2 machines can do virtually anything you can throw at them, and at blazing speed compared to "traditional" methods. I'll teach you basic technique, many tricks to use the equipment, and how to get proficient enough to run through rocks like a banshee :). Minimum length of 2 hours.
Making cabochons: there are a gazillion wrong ways and a handful of right ways to cut a beautiful cabochon. We'll go through basic techniques, from a slab or small chunk of rough rock through a domed, high gloss finished cabochon. I don't do much jewelry making but I can show you some examples and offer advice. For the most part I'm over "standard" cabochon shapes like the ovals, in my opinion getting from proficiency at making a perfect standard shape should always come after learning good habits that are absolutely necessary to make further progress: techniques to get a good dome, cut a bevel (helps with accidental chipping and setting in a mount for jewelry, scratch free sanding and high gloss polishing. So we'll be making a freeform cabochon; we can certainly do a standard cab after you have a freeform under your belt, I have many standard shapes to choose from. I only use a Diamond Pacific 8" Titan with all diamond wheels, the gold standard of cabochon machines (in my humble opinion lol). Most techniques can be adapted to other machines and I can give you tips on how to do that. Minimum length of 4 hours.
Choosing and working with the "big four" rock types: agate, jasper, petrified wood, and obsidian. The techniques you sue will be based on the rock of your choice, as each has its own special needs. For example the softer picture jaspers and "wonderstone" can be a little tough to work with and require some special techniques to get the absolutely best finished piece. Obsidian in particular needs to be treated differently than harder rock types, I've seen more badly polished obsidian that pieces done right. I also can show you how to cut and prepare faceting rough just cuz I facet way too much :)
Other common tasks: I have a vibratory tumbler (sorry no rotary barrel tumbler, I got over them a long time ago) and a vibratory flat lap so I can offer you operating techniques and tips 'n' tricks to getting good results. I make quite a few spheres on my sphere machine and I can teach you the secret techniques to making killer spheres. Obviously we can't sit and watch a tumbler or a flat lap or a sphere machine do its job without camping out for a few days! I can also show you how to fill up a shop with enough equipment and rocks to make it hard to get around! Also I can set you up with enough rough rocks or slabs and basic supplies to get you started on your own. I'm in Oregon City near Portland OR so you have to get yourself here :D
Some of the equipment we'll be using:
Rock Saws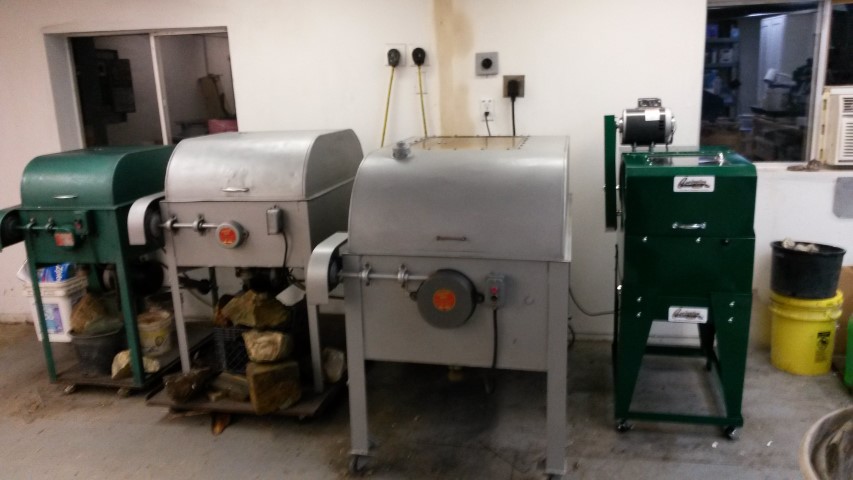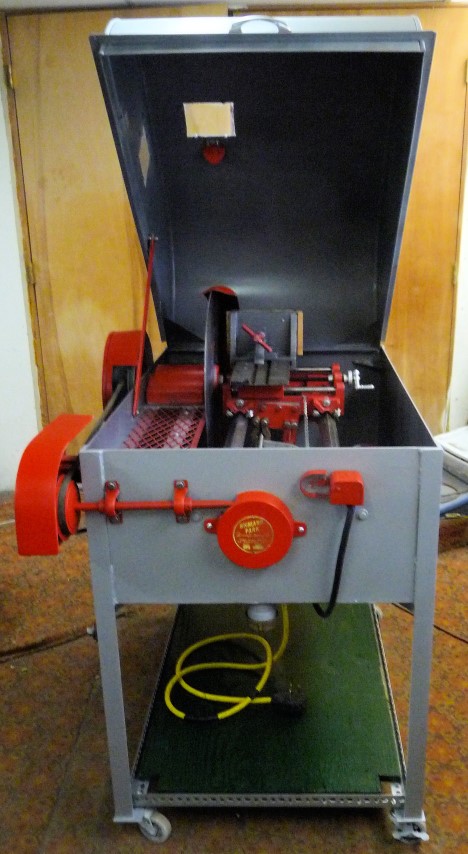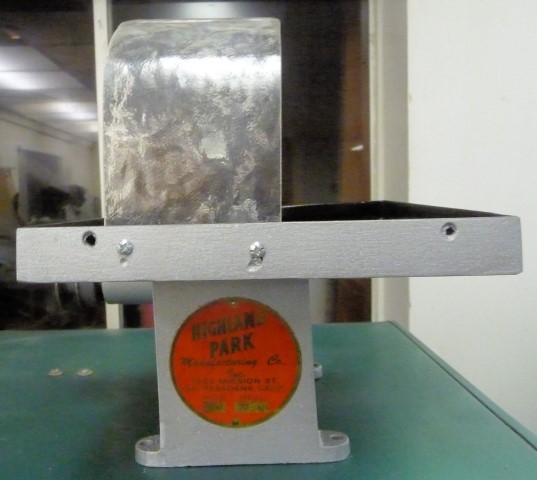 Need Lortone and Rascal
Cabochon machine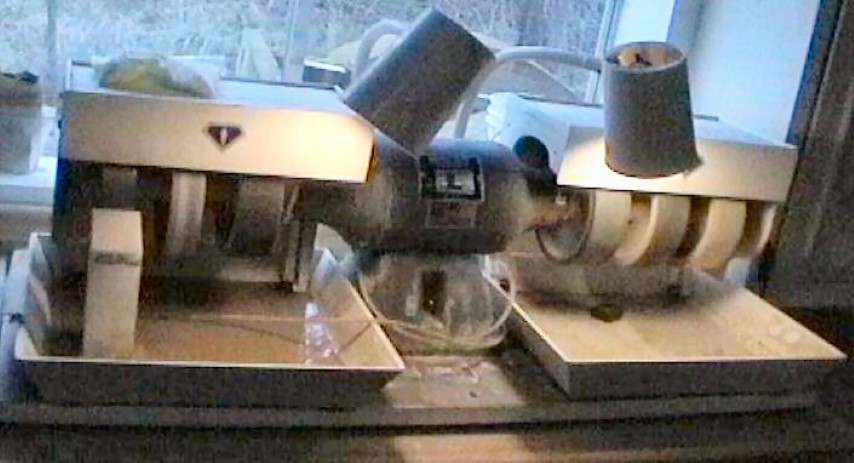 Overhead dry sander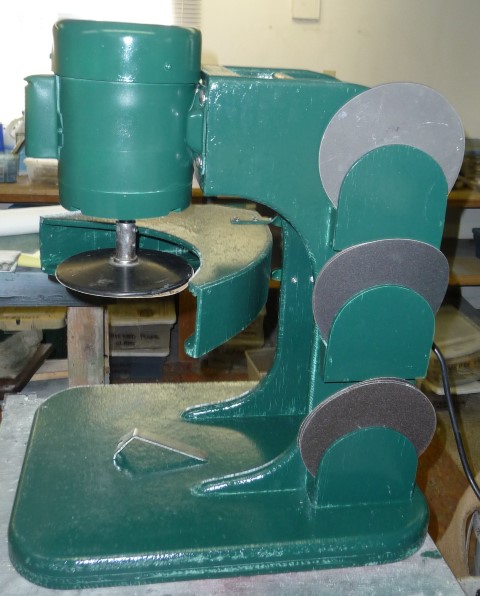 Polishing wheel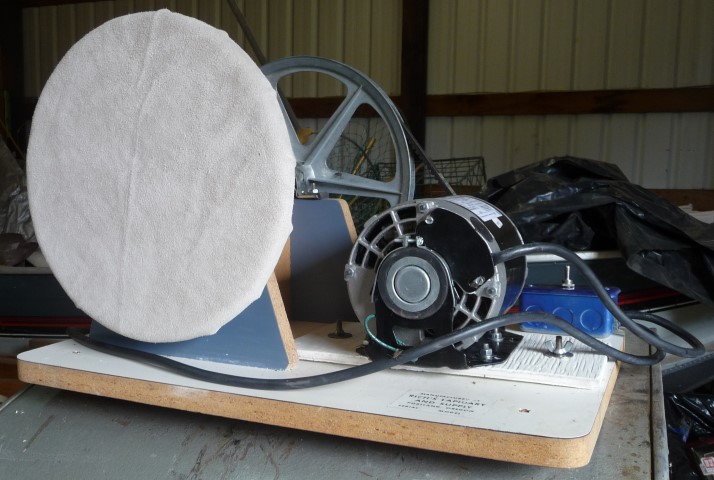 Vibratory flat lap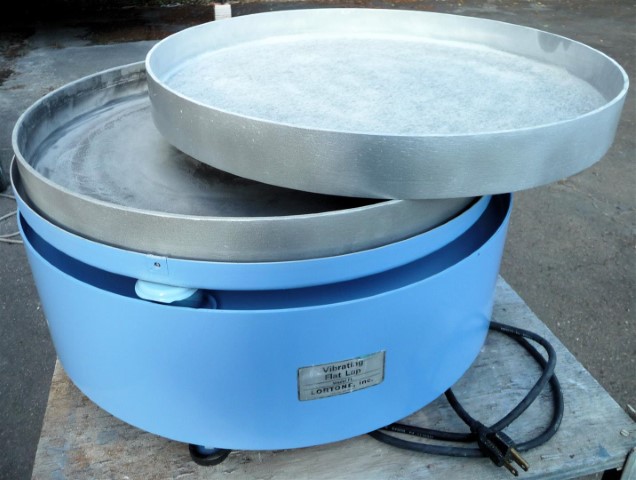 Vibratory tumbler
Need tumbler
My rates are: $25 per hour, 2 hours ($50) minimum, one 4 hour session ($100) per day. Snacks and beverages are free if you want some :) I can instruct 2 people (for twice the price), but in my experience any more than 2 students and the quality of instruction goes down dramatically. And we might have to carve some tunnels to move around! Both our brains might get fried after 4 hours anyway :) Believe me this is more bang for the buck when compared to instruction classes (individual, but especially when there are 3 or more students), and this is just my opinion but I've seen as many bad as good techniques taught in them. Sessions can be as long as you like but in general we can get quite a bit crammed into a 4 hour session. I have no "standard curriculum" so what we cover is completely up to you. For example 4 hours is enough to get through cabochon making, or rock saw cutting specimens and slabbing and polishing flats, or a run through basic equipment operation, but not all of these. I'm totally open to your needs. Cabochon making is always a minimum 4 hour session, in order to get your basic technique down before you move on to more challenging pieces or materials. But if you just want to learn how make better cabs we can shorten it. Advanced cabochon making would take about another 2 hours; big freeforms, tricky standard sizes, and working with tricky materials (for example obsidian and soft picture jaspers) are examples of more techniques we can explore. Note that I do a lot of faceting but instruction in the art of faceting is best left up to the pros and a 1 or 2 week course is more or less mandatory to develop adequate proficiency.


Copyright © 1997 - 2023

Tim Fisher

Users may download this World Wide Web page for personal use only. Unauthorized copying or distribution of this page or any of its contents without the express permission of the author is expressly forbidden.