WELCOME TO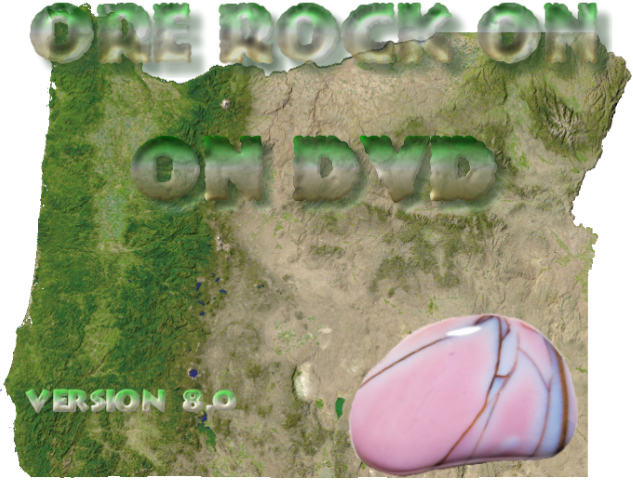 The cabochon is Oregon Sunset jasper from the Richardson Ranch in central Oregon. It's easily the best piece I've ever had and one of my top ten favorite cabs :)
OREgon ROCKhounds ONline
"Orygun, Warshington, Idaho, Montana, and Cali north of San Fran"
ROCKHOUNDING, MINERAL, AND FOSSIL COLLECTING LOCATIONS DVD VERSION 8
!!! 20th Anniversary Edition !!!
Available as a Computer DVD, USB Thumb Drive, Micro SD Card, and FTP download
OreRockOn On DVD Version 8 includes:
Everything you could possibly want to know about rockhounding this area: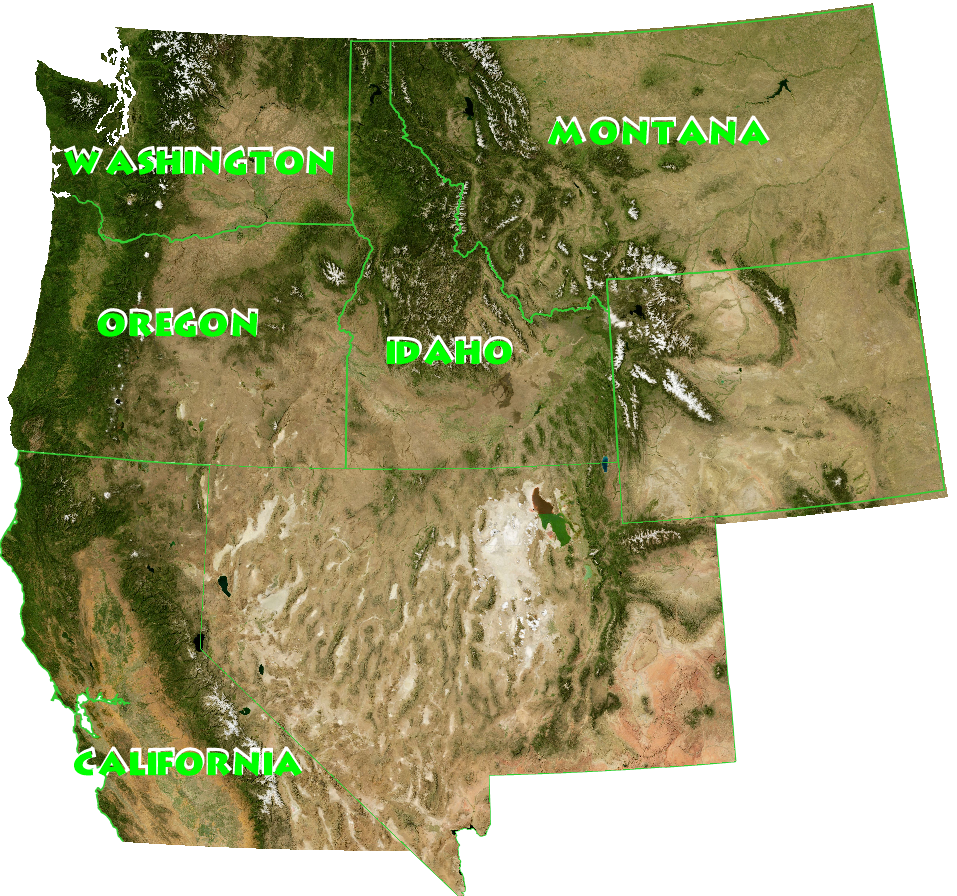 NEW TO V 8:

Hundreds of new pics,

waypoints,

topo maps and site

overview maps
36

site writeups with details on what you'll find, digging tips, and photos of the sites and the booty :)

2,500-ish II ave up counting!) photos of dig sites, rocks, minerals, fossils, scenic views, critters, (and a couple dirty rockhounds!)

Locations include

ALL sites with rock, mineral, or fossil collecting opportunities in these 8 recently published (and awesome) books

:

Gem Trails of Oregon by Garret Romaine.

175 waypoints on 105 topo maps for 93 of 99 sites in the book that have rockhounding opportunities.

Rockhounding Idaho second edition by Garret Romaine.

227 waypoints on 86 topo maps for 87 of 100 sites in the book that have rockhounding opportunities.

Gem Trails of Washington

by Garret Romaine.

Second edition

.

Between the two editions there are now 267 waypoints on 141 topo maps for 72 of 80 sites in the first edition and 95 of 100 sites in the second edition that have rockhounding opportunities.

Rockhounding Oregon second edition by Lars Johnson. 177 waypoints on 96 topo maps for ALL 99 sites in the book that have rockhounding opportunities.

Gem Trails of Idaho & Western Montana

by Lanny Ream.

132 waypoints on 93 topo maps for 93 of 99 sites in the book that have rockhounding opportunities.

Rockhounding Washington by Lars Johnson 115 waypoints on 87 topo maps for ALL 74 sites in the book.

Gem Trails of Northern California by Garret Romaine 231 waypoints on 105 topo maps for 89 of 97 sites in the book that have rockhounding opportunities.

Rockhounding Montana by Montana Hodges 99 waypoints on 66 topo maps for 91 of 100 sites in the book that have rockhounding opportunities.

That's a total of 739 sites and 1,423 waypoints folks! If you have any of the books the DVD will be an immense help in actually getting to sites and have other nearby sites and more waypoints for many of them. If you have the DVD then purchasing the books for the states you're interested in is strongly encouraged, I leave it up to the authors to give details for sites I didn't already have.
1,076

detailed 1:24,000 scale collecting area 3D topo maps

.

There are maps for 900 sites in the 9 guide books; 541 sites in the first 5 books and 359 new sites in the 3 new books (many, obviously, are overlapping sites between all the books and my writeups).

390

1:100,000 scale Overview Maps that show Land Ownership for each waypoint

Most maps have mileposts onl state and US highways.

3,403

GPS waypoints of places where material has been found and other locations to search

All the overview maps are clickable - you can click on any topo map to view the detailed map!

Instructions on printing full size maps, getting waypoints into your GPS, GPS model recommendations. Lists that have all the information describing each waypoint to print out and take with you. Google Earth files so you can view satellite photos of each map and dig site or fly from site to site in 3D (which is insanely helpful)!

Plus a few cool bonus features!
This guide is available in 3 formats (instructions on how to install it are included). ALL devices MUST have a web browser installed. Great for desktops, laptops, tablet PCs, IPads, Smartphones, Smart TVs!
Repeat customers get 30% off any new purchase!
The guide comes in these flavors:
A DVD disc which will work in any DVD drive (PC, laptops, external USB, Mac (all flavors of iOs except for very old systems which are probably all in landfills). Works on all Windows and MAC devices, and most mobile devices. Ask if you aren't sure, if you device has a DVD drive, USB port or SD card slot it's a simple setup. There are instructions for those devices that don't have any of these.

A USB thumb drive that will work in any device than can read a thumb drive

A Micro SD card for any devices that have an SD card reader. If your phone has a SD slot it will work! I can help with instaling on most phones without a slot. An adaptor is included for a full size Micro SD card slot.

An FTP ZIP folder download for any device that can unzip it (mobile devices may require a ZIP app).

You can stick the MicroSD right into your Smartphone! One more thing, if your device has no way to attach anything to it, find one that does, upload it to your favorite cloud, and download from there. It won't become an "app" unless you can find a volunteer to put a month or so into developing one, or for trade in rocks of course :)

IMPORTANT ! If you choose the download version I will give a link to the FTP folder containing the DVD ZIP file, login instructions and a one-time-use password. You MUST know how to use FTP on your device. If you don't know if it will work then you need to research the procedure for yourself. On any Windows or Mac device clicking on the link in the email should always work. I have further instructions on how to download the contents in the email. Once you tell me you've downloaded it then I will reset the password. So save the folder somewhere that you won't lose it and make sure you're able to find it again! You have to be able to open ZIP files on your device. The ZIP file 2061 megabytes = 2 gigabytes. So also make sure you have that much storage space on your device first!

ATTENTION MicroSD CARD CUSTOMERS: I have learned that at some point that Android in their infinite wisdom has stopped supporting SD cards formatted the way I have been using since the beginning of time itself. Probably with Android version 7.1. So IF THE CARD NO LONGER WORKS IN YOUR DEVICE EMAIL ME AND I'LL SEND A FREE REPLACEMENT! The current cards should work on an Android device.

Current DVD owners:

If you have purchased ANY version of the CD or DVD from me in the past then you can get the DVD Version 8 for

a 30% discount (before shipping, USB and SD card extra)

! CONTACT ME HERE
Jump To:
Please note: If you read the entire contents of this page, and then email me asking a question that is already answered on this page, be prepared for the wrath of the rock gods to come down and cast a blight upon your entire household! Also: If you have a question about "where to go rockhounding" or "where is the best place for (fill in the blank)" (I get these at least once a week), I'll just refer you to the DVD, that's what it's for! There are online sources for the Pacific Northwest if all you want is a place or two to try out rockhounding or fossil/mineral collecting so I suggest you Google them... or better yet join your local rock club!
IF YOU WANT A
FREE DVD

THE NEXT TIME I ISSUE A NEW VERSION (or to give to a deserving rockhound!), EMAIL ME SOME PICS AND DESCRIPTIONS OF SITES I HAVEN'T VISITED OR NEW SITES THAT YOU KNOW ABOUT! GPS WAYPOINTS OR SPECIFIC DIRECTIONS NECESSARY!
IF YOU DON'T HAVE THE DVD, YOU CAN ALSO SUBMIT SITES AND IF I ADD THEM YOU GET A HALF PRICE DVD!
The DVD contains all the rock digs I have visited, plus many, many more, complete with topo maps, directions, and example photos of the rocks, minerals, or fossils available at each site with a write-up (and many others). There are so many sites on the DVD that you can't possibly visit them all unless you have a couple decades of summers to spare! Sites that I haven't personally checked out or have first-hand knowledge of are great places to explore, who knows, maybe you'll be the first to discover something new or rediscover something lost! The DVD also contains files for viewing each waypoint in Google Earth and a waypoint list for downloading to just about any GPS unit (you need to have the software and cable for your GPS unit, or you can easily enter them by hand). I may provide updates of the waypoint file if you have supplied me with a valid email address. It contains full descriptions of 29 productive rockhounding areas in Oregon and 7 areas in Washington (some Idaho sites are included in the Oregon area write-ups). Also example photos of hundreds of materials available at sites that are not included in the detailed write-ups, many of which are from the actual site. I make no guarantees about the accuracy of the landowner information. Contacting landowners and finding out what the various state and federal rules for rock digging are is your responsibility!
MORE ABOUT OREROCKON ON DVD VERSION 7
What can you find at the sites on the DVD? Here's a (very short) list:
Lapidary Materials:
Thundereggs! Yes I am an addict, and there is no known cure :)
Agate: plume, seam, nodules, geodes, moss, iris, carnelian, tube agate, fortification, sagenite, enhydros, misc. agate
Jasper: picture jasper, jasp-agate, orbicular, misc. jasper
Obsidian: Black, gray, sheen, rainbow, mahogany, opaque, green, black & brown, fire, needles, Apache tears, many other local varieties
Petrified wood: agatized wood, opalized wood, green, picture, logs or rounds, roots, branches, limbs, limb casts, Tempskya
Opal, common opal, hyaline or Jelly (clear) opal, myrickite (cinnabar in opal), fire opal (red, not to be confused with precious opal), precious opal ("play of fire")
Other Lapidary Rock
Basanite (for knapping), travertine, wonderstone (aka picturestone), serpentine, nephrite jade, rhodonite, rhyolite, Oregon jade, Rocky Mountain quartz (aka "Oakley Stone"), thulite in quartz, stilpnomelane (a very rare mineral that also makes nice lapidary material), amber, onyx, chrysoprase, chert
Minerals & Crystals
Quartz: crystals, scepters, smoky, druzy, rose, botyroidal

Albite, zeolites, garnet, star garnet, epidote, fluorite, copper minerals, sapphire, calcite, Oregon sunstones!, book mica, beryl, schorl, staurolite, goethite, kyanite, pyrite, corundum, marble, argillite, actinolite, realgar, jordisite, talc, diatomaceous earth (for rock tumbling), feldspar crystals, galena, gold (a few), hematite, nickelite, sillimanite, olivine, malachite, azurite, Josephenite, plus a whole bunch that I can't even pronounce!
Fossils
Trilobites, fossil leaves, petrified wood (see above), limbs, bog wood, stems, seeds, ferns, palm leaves, pine cones, horsetails, crinoids, insects, fish, shark teeth, ammonites, clams, snails, crabs (my favorite!), lobsters, shrimp, crayfish, coral, brachiopods (lamp shells), sponges, graptolites, oolite (algae masses), belemnites (Devil's toenails), scallops, amber, nautilus, barnacles, poop (actually the mineral siderite)
Vertebrate animals (where it's legal to collect them!): whales, porpoises, seals, sea lions, other vertebrates
PLEASE READ BEFORE ORDERING: The DVD will NOT work in a video DVD player! You MUST have a DVD drive on your computer to view the DVD. If you only have a CD drive, you need to install a DVD drive; they are CHEAP. I paid $33 for the world's fastest DVD Writer drive in Noc. 2019, I bet they're practically giving away read only drives now, so there is no excuse not to buy one! THE DVD WORKS ON ALL NEW MACS. It definitely works on older MAC operating systems, except very old ones. IT WORKS ON ALL WINDOWS BASED PCs, indeed, any OS that supports WWW browsing including Ipads, tablet PCs, Android phones, Iphones, and all sorts of other gadgets. All you need is a web browser and a DVD drive, USB port, or SD card slot. I highly recommend that you have the latest version of your browser installed!
See the example Ashwood, Oregon area 1:100,000 scale overview & land ownership map here; this compressed and shrunk image (done deliberately to obscure the juicy bits) is absolutely abysmal compared to the large detailed images on the DVD!
See the example Richardson's Ranch 1:24,000 scale collecting area map here; this compressed image is also much lower quality than the images on the DVD!
Sample pages from the DVD:


Tips on using the CVD/DVD

(corrected internet links and errata are here)

Mac users: I have been informed that for two customers some of the fancier aspects of the DVD didn't work as expected in versions before 5.3. They are limited to clicking on links for overview maps on some of the state region pages that don't lead to the expected map images. You can however access all of the map images by clicking on the appropriate file. Do this by opening the contents of the DVD in the Finder application. I can email you instructions if this happens on your computer. BTW there are excellent (and free) alternatives to the Finder that make it a lot more user-friendly. If you want to exchange the DVD for a new copy (free of charge), please contact me! Versions 5.3 forward DO work with all MAC operating systems as of 2017.
You DO NOT need a Paypal account to use Paypal, just a credit or debit card!
Price:
$30.00
for FTP download,
$35.00
for DVD,
$41.00
for USB Thumb Drive or

$40.00

for MicroSD Card
S&H: Media Mail $3.65, Priority Mail $8.90, First Class Canada about $14.00
(Read my sales policies here )


Copyright © 1997 - 2023

Tim Fisher

Users may download this World Wide Web page for personal use only. Unauthorized copying or distribution of this page or any of its contents without the express permission of the author is expressly forbidden.