WELCOME TO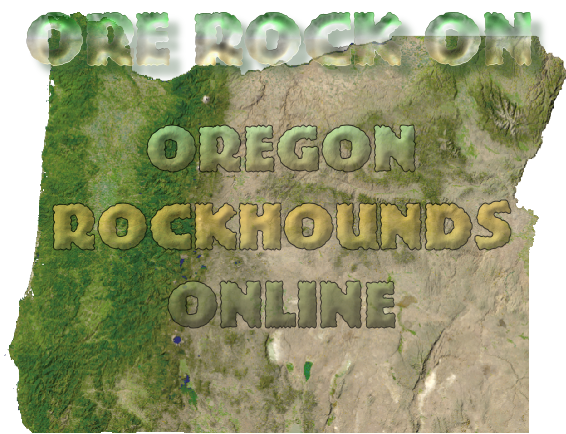 OREgon ROCKhounds ONline
The FIRST, the BIGGEST, and the BEST site on the Web for getting Oregon Rockhounding Information!
OVER 236,000 SERVED SINCE 10/95!
As featured in Rock & Gem Magazine!
This is the home page of Oregon Rockhounds Online. Ore-Rock-On was founded by Tim Fisher (me) on Sunday, June 4, 1995, whilst putting off lots of yardwork which I had to do. The organization's membership immediately swelled to four to include my wife, Tonya, and my kids, Tad and Lauren. They were totally enthusiastic about joining, and besides, they didn't have a choice!
This site has two purposes. The first and foremost is a

guide to Pacific Northwest Rockhounding sites
The ulterior motive of this page is to buy, sell, and trade lapidary rough, fossils, and knapping materials (obsidian)
Another motive for this page is to provide information on the Portland area Rock and Gem Clubs and field trips. Our field trip schedule is thick with excursions all over OR, WA, and ID, so check it out!


OreRockOn Rock Dig Locations DVD VERSION 5.2!

709 collecting area maps! 2,453 waypoints! 36 site writeups! 230 Land Ownership maps! New

Gem Trails of Washington & Oregon

locations & maps!

Cool Rock Stuff!

Green River Formation Wyoming Fish Fossil Digging
NARG Fossil Point Whale Skull Search & Rescue
Oregon, Washington & Idaho Rock & Gem Clubs Field Trips 2009

Where Are The Rockhounds At? Cool map of the USA

Advice for Visitors from the Good Folks of Eastern Oregon
Zeolites from NW Oregon and SW Washington
A Photo Tour of the Petrified Forest National Monument, Arizona
Some Pics of My Shop, Equipment, & Rock

Gem & Mineral Clubs
MEMORIAL TO ROD ROBINS, BUCHANAN OREGON THUNDEREGGS, 1946-2012
Portland Area & Pacific Northwest Rock and Gem Clubs
Mt. Hood Rock Club Annual Show APRIL 11-13 2014 -
National Guard Armory 10000 NE 33rd, Portland, OR (this is the 2013 flyer)

Search here for something else rocky...

Or check out some other rockhounds on the web!
Comments? Suggestions? Wanna trade? Go rockhounding? E-mail me!
Type the email address above into your email program. The last character is the number one, not an I. Please note: My email address has changed as of Jan 2010 to evade the spammers. The old email address was inactivated soon thereafter so don't use it anymore as I will NOT get your email!
Check out Tim's Cool Home Page!

Copyright © 2001 - 2013
Tim Fisher
Users may download this World Wide Web page for personal use only. Unauthorized copying or distribution of this page or any of its contents without the express permission of the author is expressly forbidden.