Pics from my shop!
No one has asked, but I'm putting these up anyway! So nyah nyah!
I don't necessarily have all of these, but I am keeping the pics up anyway :)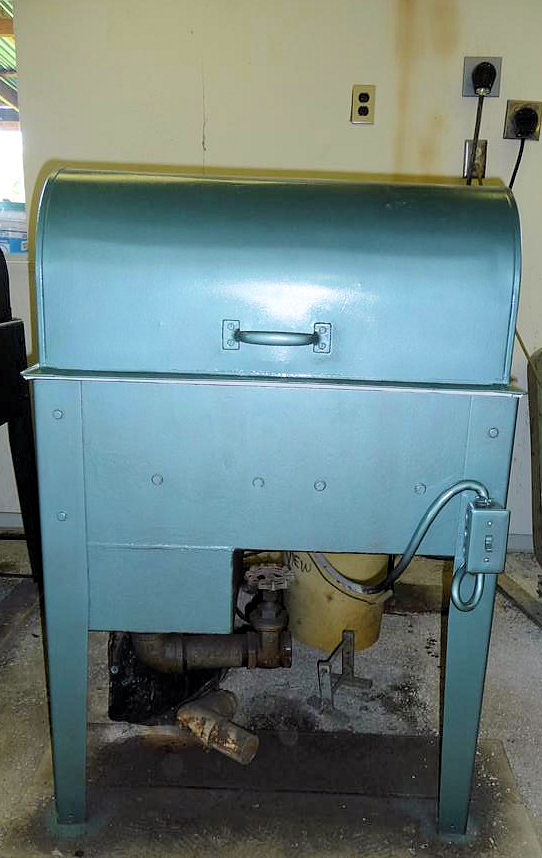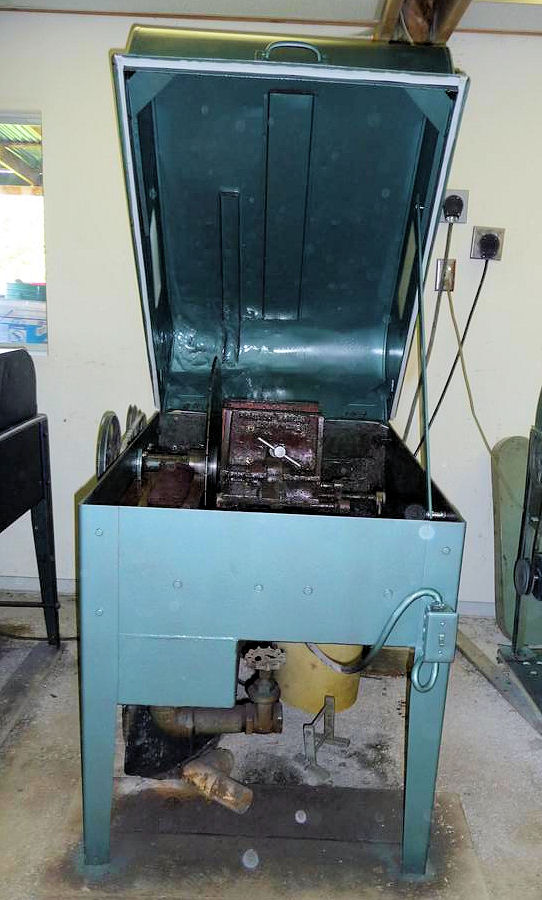 Don't these just make ya wanna do those ape sounds like Tim Taylor? Anyway this is my 24" Frantom rock saw. All my big saws have been restored, leakproofed, and in some cases heavily modified from the original configuration (typically I added at least a cutoff switch, I can't believe that any saws were made without one!). I converted the big saws to 220VAC, it is much more efficient than 110VAC, and is easier on the motor to boot. I also remove at the bolts that go through the lid & body and add neoprene washers inside & out. The guy that I bought this one from had whacked the lid with his tractor's bucket so I got it for a killer price. It got a new cutoff switch after the pic was taken. All my cutoff switches are either Cutler-Hammer or Allen-Bradley industrial duty heating/cooling switches, like toe switches the old-time saws had. They are rugged and overkill in the extreme, but one thing makes it worth the expense and effort: if you burn one out then you burned out your panel and all your breakers. I think they can take 3 phase power (340V). Note the drain plumbing which was added by someone else. It was a hack job but it did move the drain to where you could put a bucket underneath it.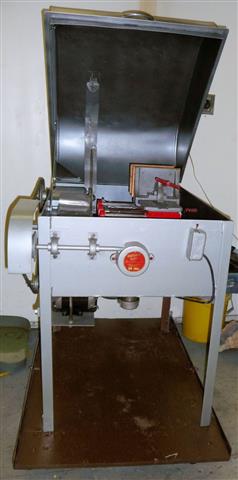 This is my newest baby, a Highland Park 18" slab saw. It was a "project" when I bought it for a reasonable price. Everything was there but it was pretty roached. In other words rode hard and put away wet :( That's a new 220V motor, but the original pulleys. I changed the cutoff switch to a heavier duty model, sanded, primed and painted every piece, replaced the wiring, and of course an MK blade. New vise jaw inserts (oak is good, and I've heard that Hickory is even better). I tweaked the blade splash guard, most come with the guard positioned way too far forward, which will jam the rock if it's close to the biggest diameter that the saw will cut. The cover over the motor pulleys had been cut off by someone to make room for bigger pulleys. That's just fine with me, I would have done it anyway because every saw came with cheap die-cast pot metal undersized pulleys that put unnecessary strain on the motor, feed, and belts. IMO they all come with underpowered motors suitable for use by grade schoolers. I up mine at least one size, i.e. 1/4 horsepower to 1/3, 1/2 to 3/4, 3/4 to 1, etc. No burnouts and no surprises (yet).
P.S. Every blade you see in these pics is an MK-303 Professional. You can visit their website here. There is NO OTHER LAPIDARY BLADE as rugged as these. After using them HEAVILY for over 5 years now I have worn out exactly one, after thousands of cuts. They are expensive but will pay for themselves the moment your cheap blade needs to be replaced.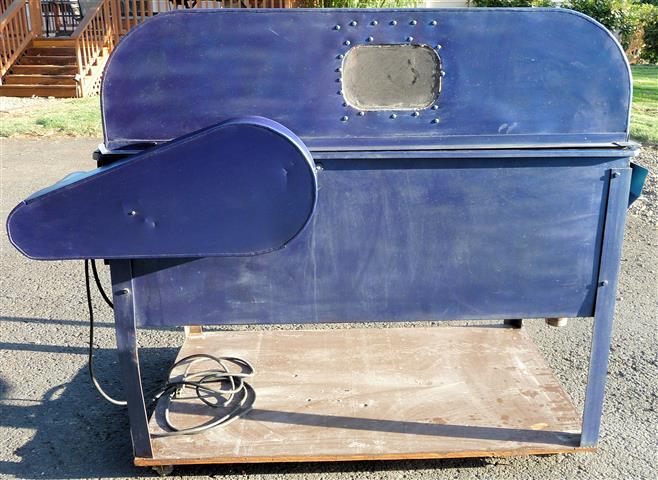 An Ideal 24" saw that I restored. This is an Ideal from Kingman, Arizona. They went out of business many years ago and this one was a little primitive but the vise and the original feed motor system were pure genius. This feed motor was on its last legs so I replaced it with a DC gearmotor (and of course an MK blade). It had a HUGE cabinet and I could get 75 lb. rocks in there no problem. Sadly I sold it to make room for a 36" saw that I wasn't able to buy (don't you hate people who say call me when you have room and then change their minds?). After this I added a nice electric feed motor and of course an MK blade.
A completely restored circa 1970 Highland Park 14" saw. Not only were the belts LEATHER, it didn't even have a switch! What did the guy do, unplug the motor every time he made a cut? Sheesh! Since this pic was taken I added splash guard on the blade, and an Allen-Bradley cutoff switch and a bigger feed screw pulley to speed it up. Stand by Home Depot : )> I had to make room for a Covington 14" saw so I let this one go.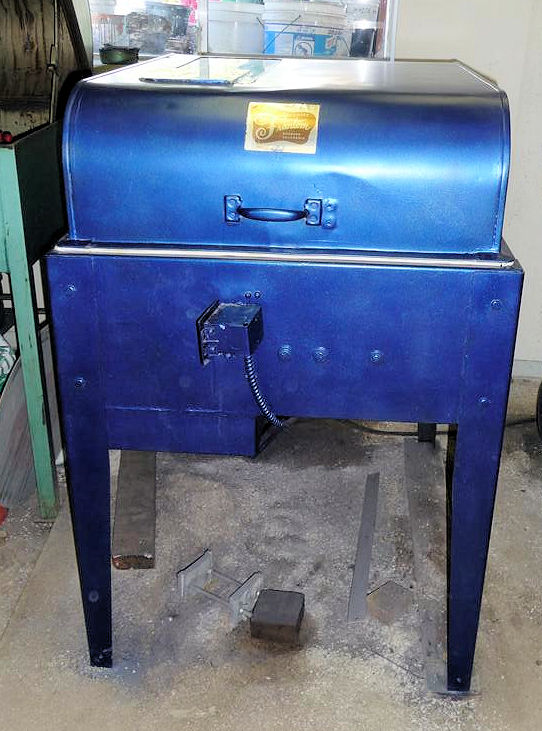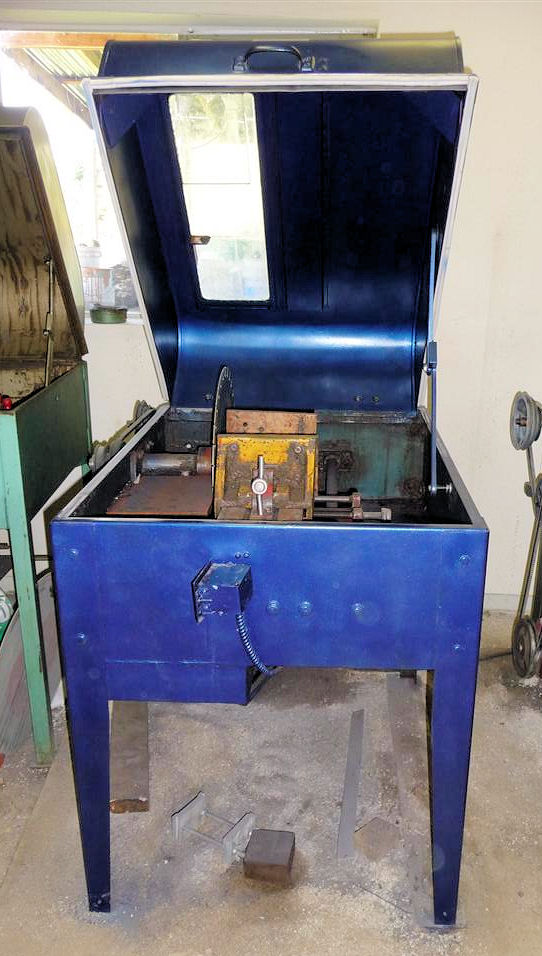 An 18" Frantom, this was my second saw after a 12" Lortone (I sold that one to make room for it). I had quite a few problems with the feed and I think it was rather cheaply made, but after my mods it works great. I am miffed at the lip on the base, it directs oil out over the sides of the saw and I can't think of an easy way to fix it. Sadly, it has been passed on to another owner :(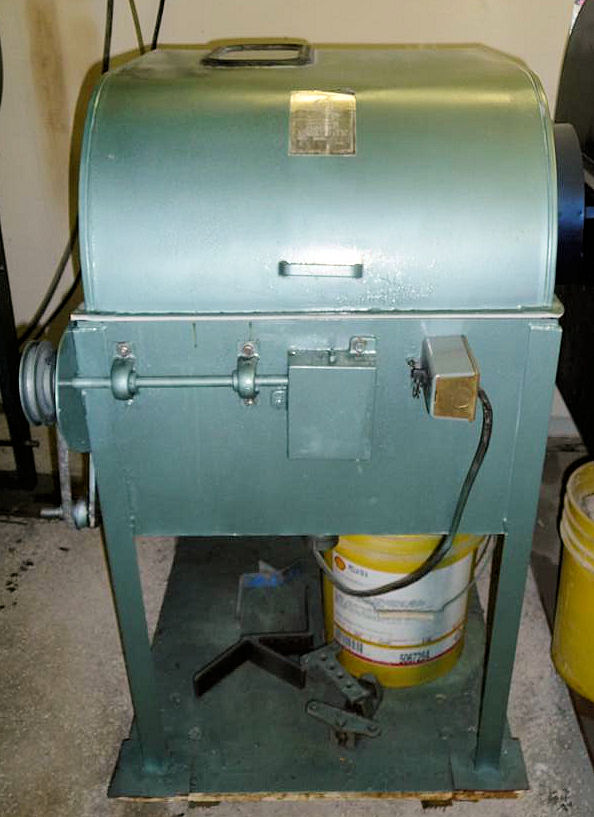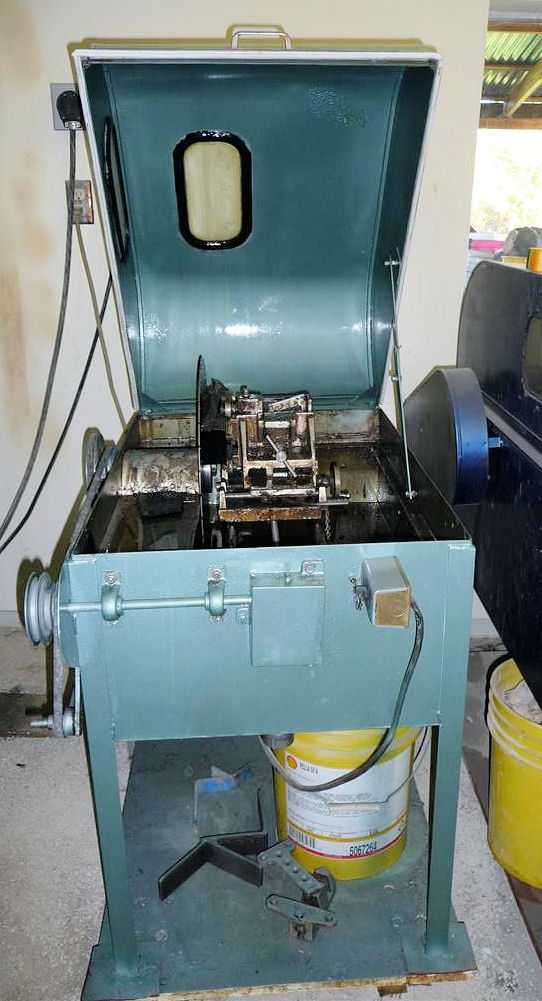 An 18" Lortone. These are better than Frantoms (IMHO) but not as good as Highland Parks (except for the feed, which I think is too prone to failure on the HPs). The belt cover is missing because I replaced the tiny pulley on the arbor, which was too small to turn the blade as fast as I like them (the MK 303 notched rim blades that I use cut most efficiently at a much faster RPM than Meteors or Chinese knockoffs, and will last me 50 times as long). Notice the Allen-Bradley cutoff switch (see above).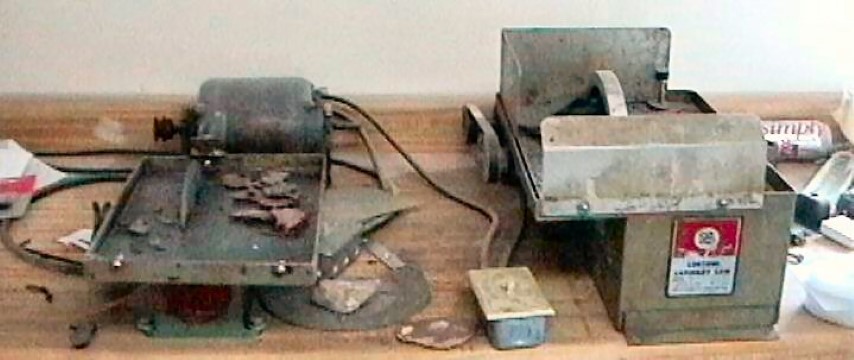 OK, so these are smaller. A high speed 4" opal trim saw on the left (probably an old Highland Park) and a regular 6" Lortone trim saw on the right (which has since moved on LOL).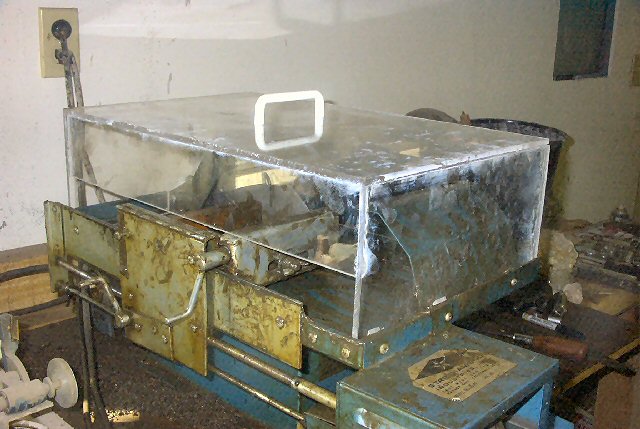 I had to make a new lid for this saw, a Star Diamond TS-10. I replaced the original plastic lid which was beyond repair. OK so it's dirty! I use it!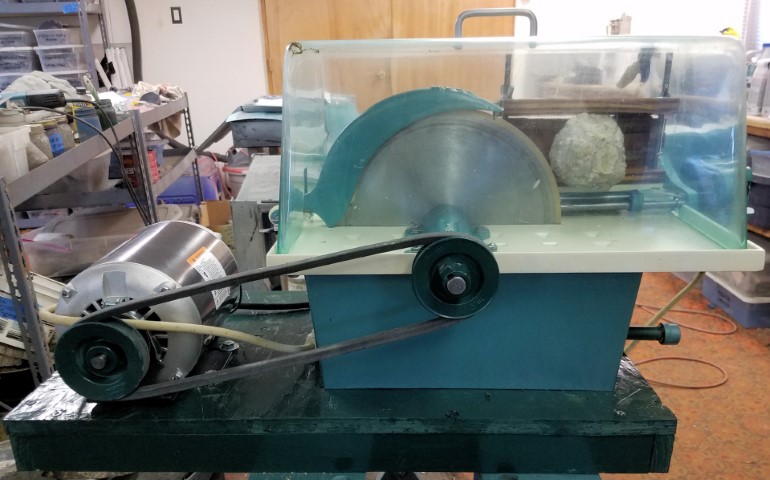 My Beacon Star 10" Trim saw. This is after I restored it to sell, 2 10" trims was 1 10" trim saw too many. I chose the Star Diamond because the auto-feed is more to my liking.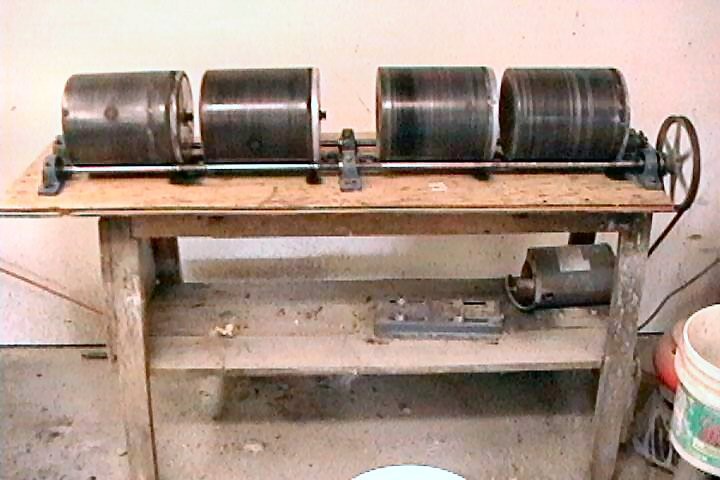 My now-deceased homemade 4-barrel 48-lb. capacity rotary tumbler, courtesy of Terry Ensell. It did give up all its parts to other projects :)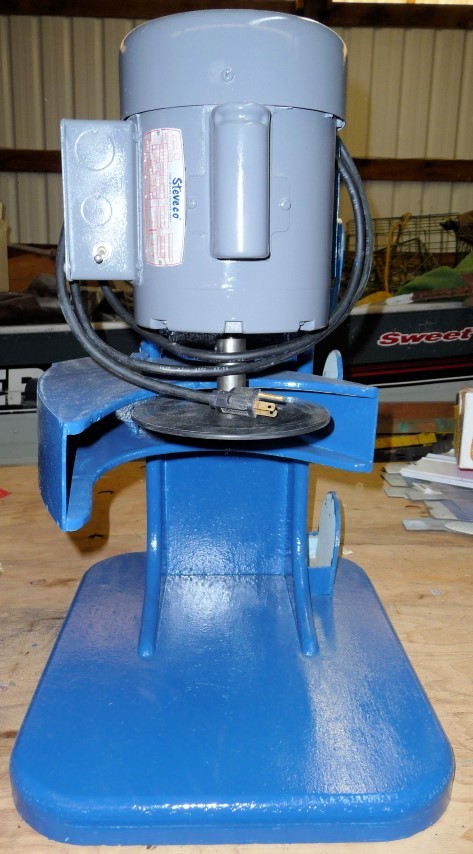 The high speed overhead sander, a Richardson's model. I was usign a Shopvac for an exhaust then I built a shop exhaust system so I could actually use my Shopvac for vacumming!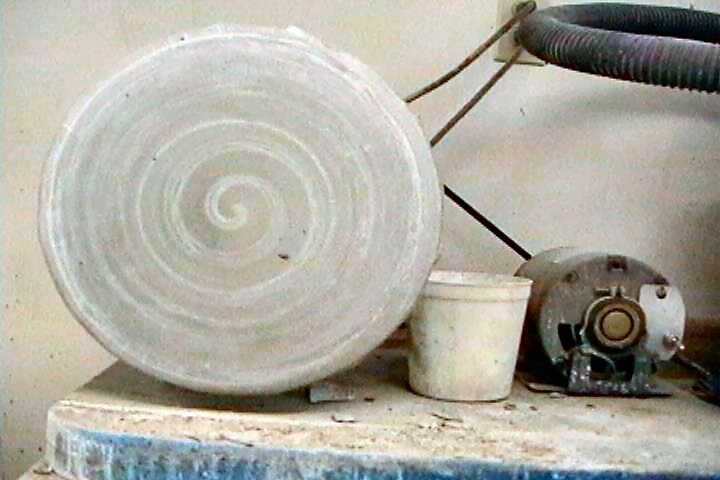 A Richardson's bull wheel for polishing. Along with the Covington 14" saw, the Titan and the sphere machine the only machine I have ever bought new.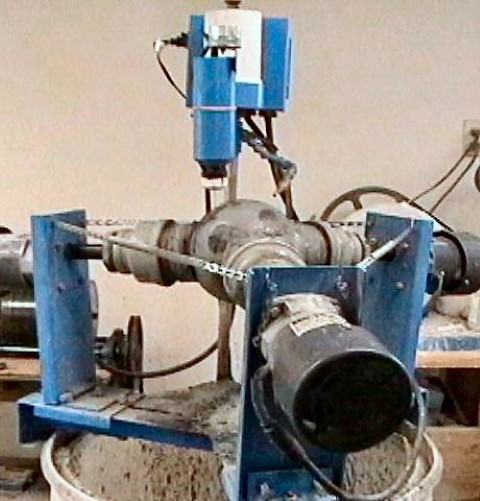 A Richardson's sphere machine grinding away on a 6-inch McDonald Ranch petrified wood sphere. The best, baby! This was the last machine they made (really, I had to talk them out of it!). Farewell, best sphere machine ever produced :( I use 80 grit diamond cups for the rough grind now. They are worth the $$, cut like a dream and get you to a sphere in 1/10th the time compared to 60/90 silicon carbide grit. The motors are from old copiers, back when they were still called Xerox machines :) They do take a lot of strain and they're tough to replace, but you can find good used ones and occasionally new ones for decent prices at the surplus equipment websites.

The Diamond Pacific Titan! The prince of lapidary grinders. All diamond and ready to CUT! They only complaint I can come up with about it is that the pump system is a little cheaply made - mine basically died in 2011 (I have had in since at least 1997!). New parts from DP made that problem go away.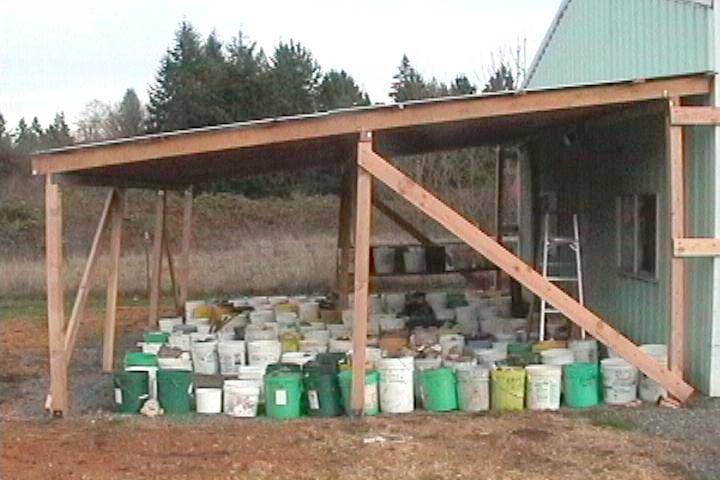 The rockshed circa 2000. Think I got enough? The Big Stuff isn't even in the picture!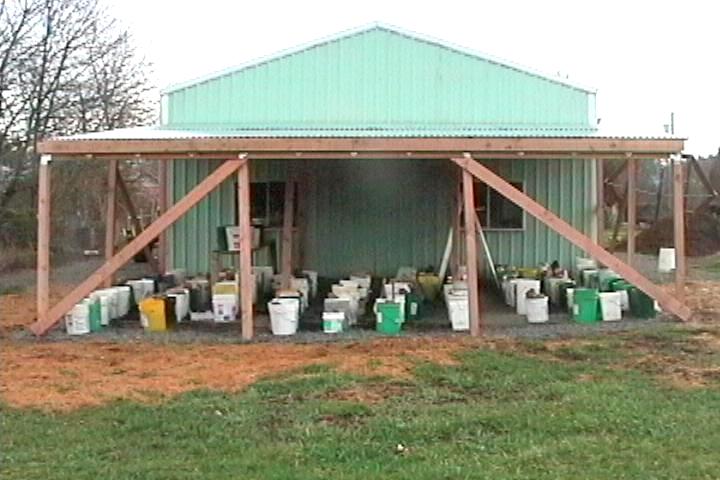 Another view of the shed and shop. I need to take another pic - I have had shelving for a long time now to double my capacity! Beautiful. <sniff>


Copyright © 1997 - 2023

Tim Fisher

Users may download this World Wide Web page for personal use only. Unauthorized copying or distribution of this page or any of its contents without the express permission of the author is expressly forbidden.