Equipment Currently (and soon to be) For Sale

Coming REAL soon! 8" 4 wheel Star Diamond Cabochon Machine!

Coming soon! 3 wheel 6" Cabochon Machine!

Coming soon! 2 18" & 1 24" Slab Saws
(Click one to go directly there)
If you've recently visited this page, be aware that your browser may have cached the images and although all browsers are supposed to catch new images and reload them, sometimes they don't. So hit the refresh button below just in case to make sure you have the lastest pics.
For those of you who are looking for something specific in my for sale pages, such as when I list refurbished equipment, I might have a solution for you. You may want to try this: https://www.changedetection.com, I think all you do is sign up and enter the address of the page, for example if you are looking for equipment enter http://orerockon.com/equipment_for_sale.html, and they should send you an email when I add something. BUT, it probably will send you a notice when I change one letter of one sentence on the page, so you might get annoyed by it at some point. It's a great way to track when I list new polished items or refurbished equipment, since I typically don't change anything until something sells and/or I add items, and equipment, which I never change unless I add new pieces or change the status to "sold" as they sell.
ALL of the equipment I sell is used, and restored to perfect working condition. I don't believe in selling "you fix it" machines so I refuse to do it. Every piece is completely disassembled, sanded to remove all traces of rust and loose paint, primed, painted and clearcoated. I uses epoxy paint on heavily used surfaces. I check every part, lubricate bearings etc., and replace parts as necessary. I update components that are worn or out of date, and occasionally tweak the machines so they perform better than they did out of the factory. All pieces come with working motors and I always update the electrical components to make them safe and reliable. If you need any supplies to run the machines or they require additional setup, I tell you that and give recommendations. I don't leave it up to you to guess like the online sellers. I price everything to move as fast as possible, in other words I don't put a sky high price on them and hope for some sucker to bite. I charge what completely restored, used equipment is worth and no more. I can ship smaller machines but most are pickup at the shop, I am near Oregon City, OR.
My equipment usually sells FAST so if it says SOLD, it means SOLD. I won't answer emails inquiring about equipment that says SOLD. Check back often for more listings. If you are not intending to buy any equipment from me, please don't ask questions about anything listed on this page, your saw, your buddy's saw, any other lapidary equipment, etc. I simply don't have the time to answer questions about someone else's equipment. That's what email lists are for (hint: Google "rockhounds email list"). That's also what rock & gem clubs are for - join your local club! You can pay through the Paypal cart buttons on the page, money order, or cashier's check, and if you pick up your equipment here at the shop I can accept credit and debit cards, cash, money orders, and cashier's checks. S&H & insurance not included. Will ship some items via USPS Priority Mail (if it fits in a flat rate box) larger items via USPS standard mail, or you can come get it (strongly preferred!). I am in Oregon City, Oregon 97045. E-mail me at the address at the bottom of the page if you have any questions!
ALL OF YOUR QUESTIONS ARE ANSEWERED HERE. I will not, under any circumstances, ship anything international. The rates are now ridiculous as of the huge recent price increase, and I've had enough of boxes going missing on the receiving end. If you aren't a US citizen and you can give me a US address to ship to that's OK. By ordering from this site you are agreeing to all the stated policies on the linked page.
In addition to Paypal, I accept debit & credit cards, cashier's checks, money orders, and cash. E-mail me at the address below!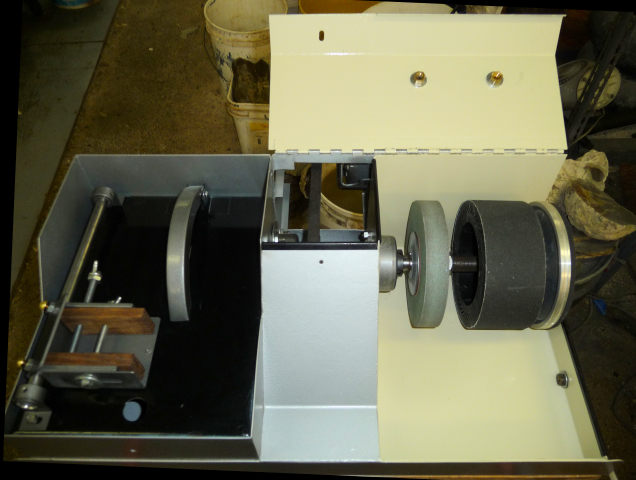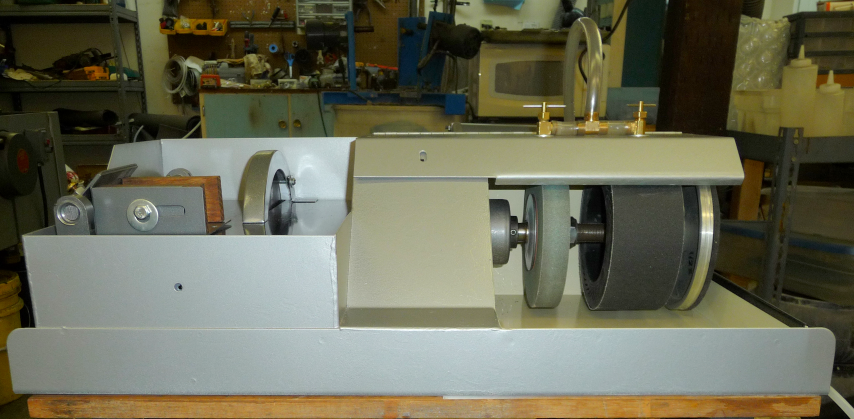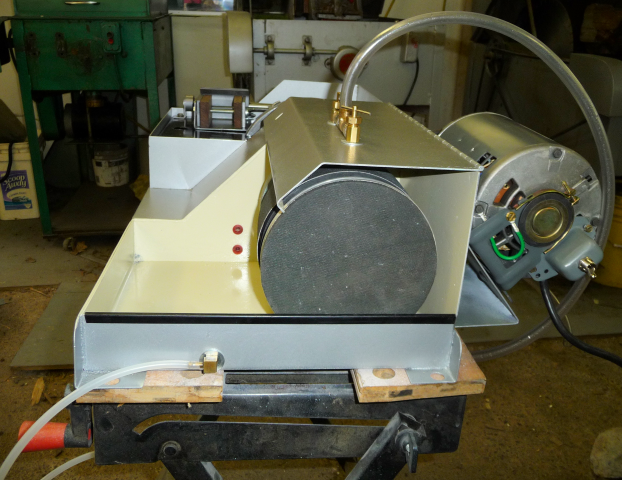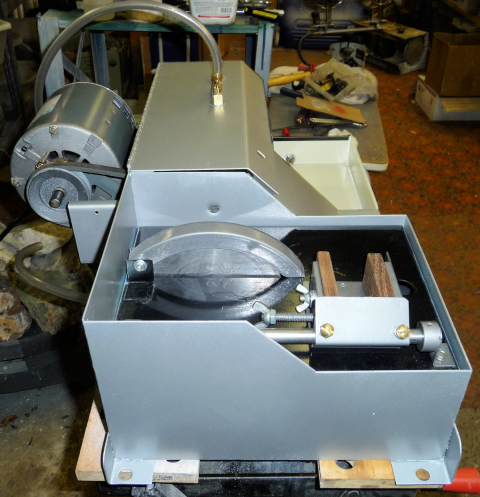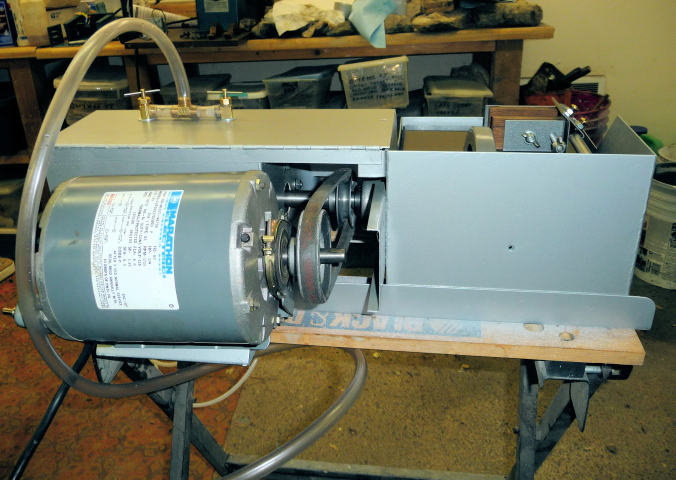 Refurbished Lortone Model LU-6 for sale! This 6-inch all-in-one lapidary trim saw and lapidary arbor is totally refurbished by me, and ready to run right now! Here's the details: Completely disassembled, stripped, painted, epoxy coated trim saw table and inside of the arbor for extra durability. Trim saw with a hand feed and good used blade. 6" 100 grit silicon carbide wheel (the green wheel is for lapidary use). NEW 6" expando type sanding drum with 4 belts to get you started (220, 400, 600 and 1000). Unscrew the polishing head and change belts without removing the drum. Foam pad polishing head, put a hide or canvas cover on it and use cerium oxide. Or you can glue another sanding disk to it with contact cement if you already have a polisher. NEW 1/4 HP Marathon motor (I know it looks like it isn't level but it is). New water supply system with valves (even the current model doesn't come with them). All you need is to drill out a container, glue the tubing to it or screw a couple dollar fitting in (my preference). (The current model retails new for a little under $800!)
Pickup here Oregon City OR
7" High Speed Overhead Sander $375 Price reduced $350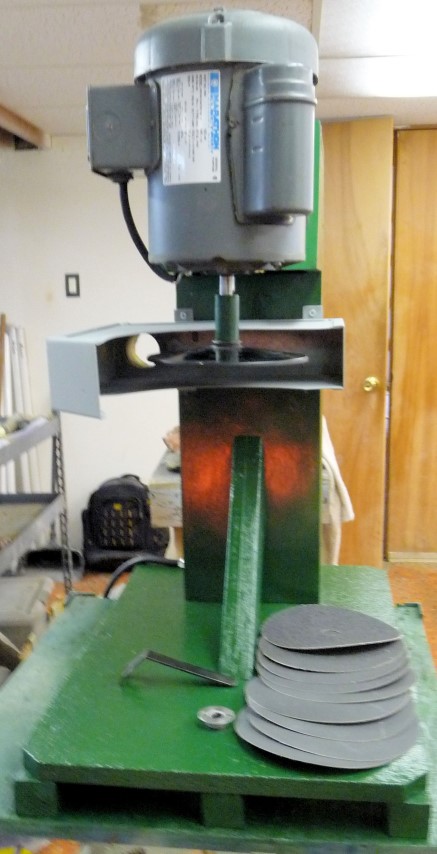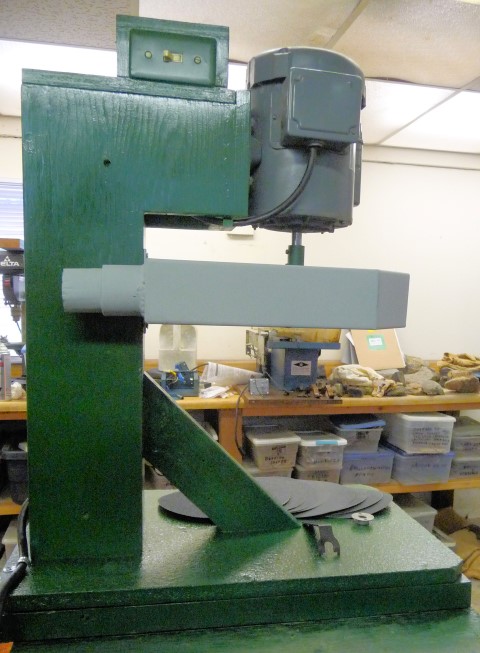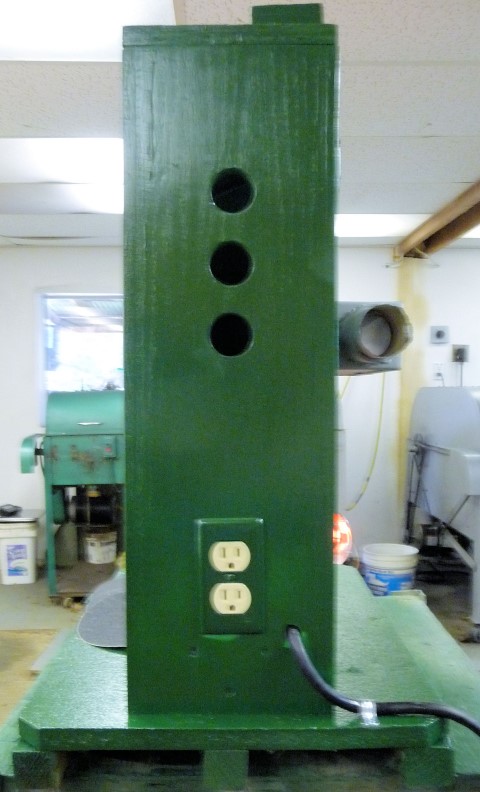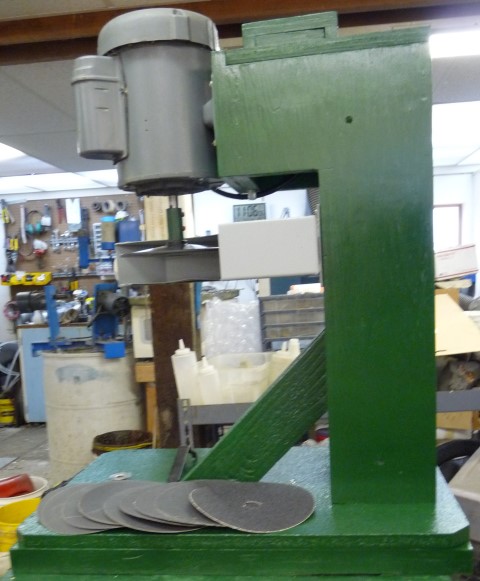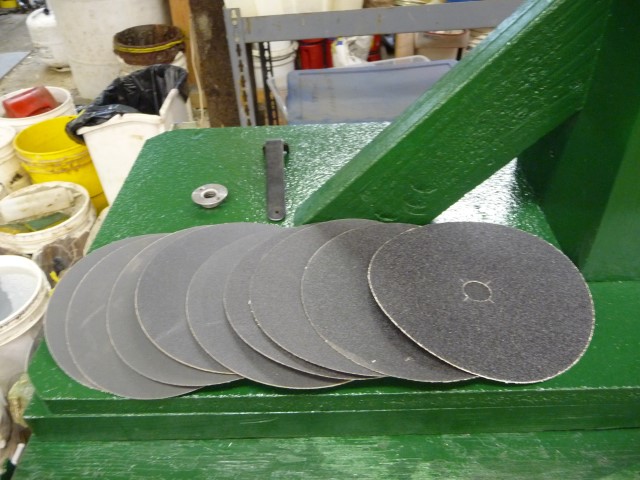 I use one of these machines about every time I'm in my shop. It's for rapidly sanding flat pieces, like cut thundereggs, agate, petrified wood, etc. before you polish them. This one is built like a tank, it's a knockoff of a commercially available machine. Someone knew exactly what they were doing and did an excellent job. All I did was give it a makeover.It uses standard 7" sanding disks that attach to the backing pad with a lock nut. I'll throw in a collection of different grits to get you started (40, 60, 100, 220 and 400 grit). A typical progression would be 36 grit to 100 to 220 or 60 grit to 220. 400 is usually last but once you get the hang of it you can easily go from 60 to 220 to polish. I use a low speed buffer which is ideal for polishing rocks sanded with this machine. The motor is virtually new, the electrical system is top notch, it's wired exactly like I would do it lol. has an extra outlet on the back for plugging in other machines. Changing sanding disks is easy, jut loosen the nut with the tool and switch disks. This setup is vastly superior to the "glue on" sanding disks which take forever to change and require a separate backing disk for each grit. It has an adapter for a shop vac (use with HEPA filter) or shop exhaust that is mandatory for using these, they generate a ton of silica dust which is very bad for your health. Has a 1/2 HP 3450 RPM motor. I can give you a quick lesson on my machine if you aren't sure how to use it. I have plenty of tips & tricks with 25 years of experience! (The commercial model retails new for $495!)
Pickup here Oregon City OR or I can meet you in the Portland general area
Diamond Pacific Genie 6" Cabochon Machine
SOLD THANK YOU!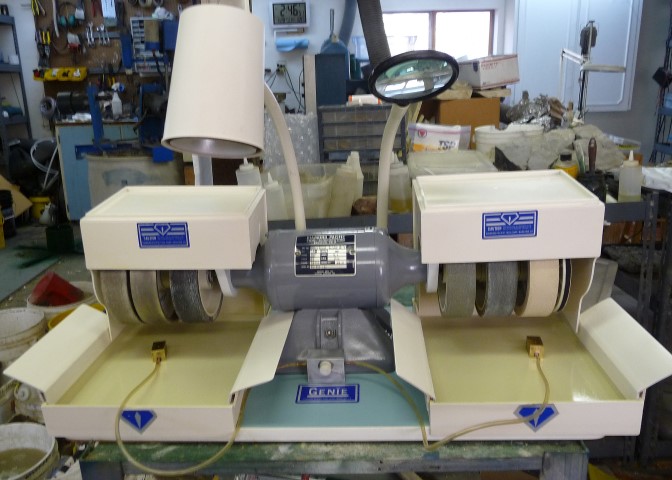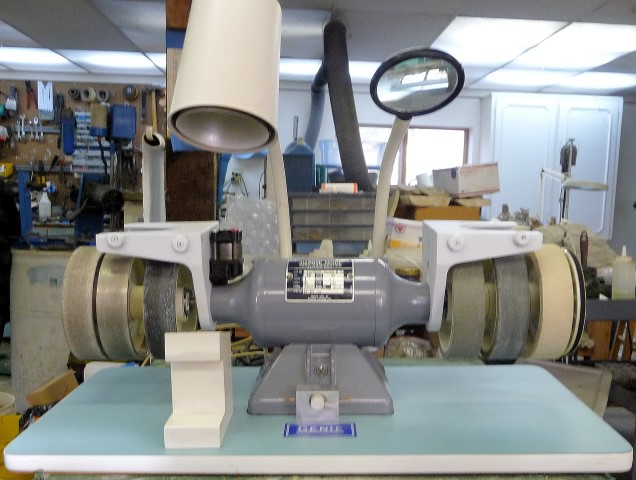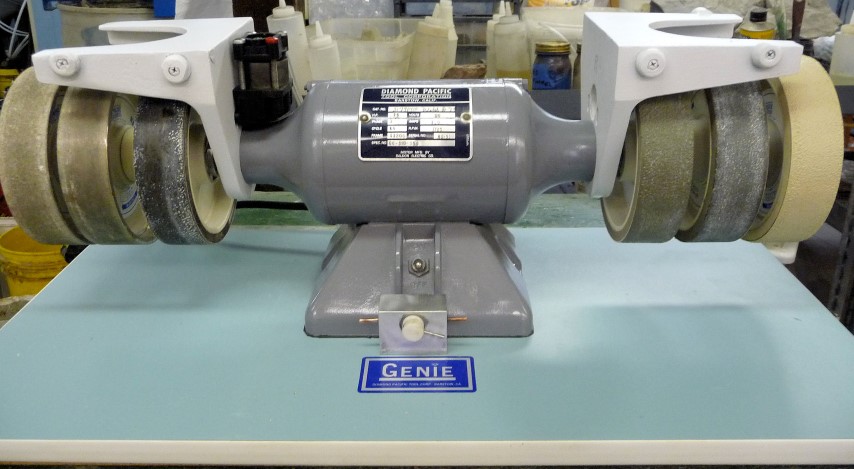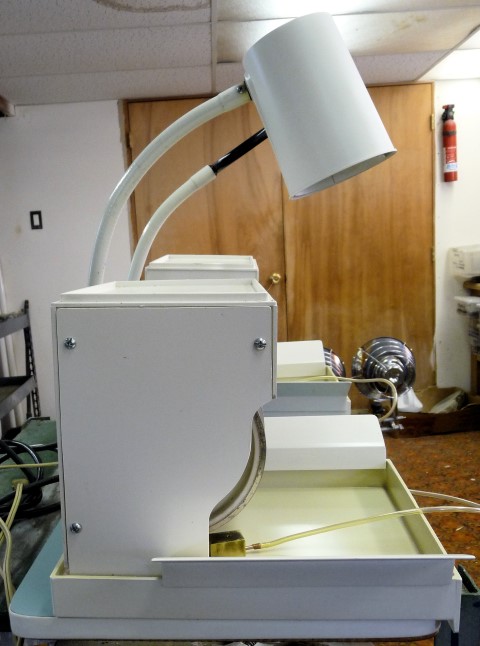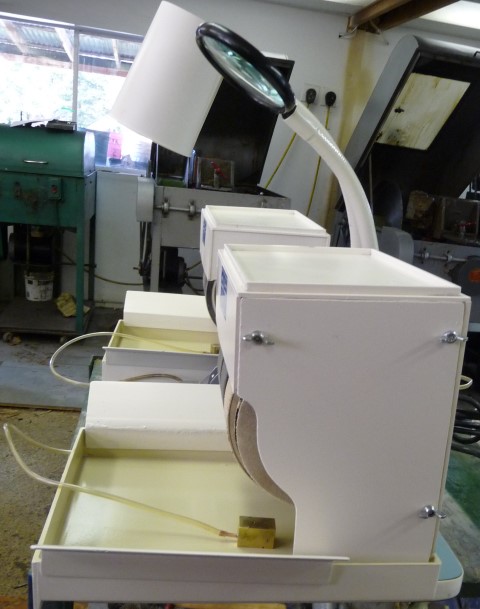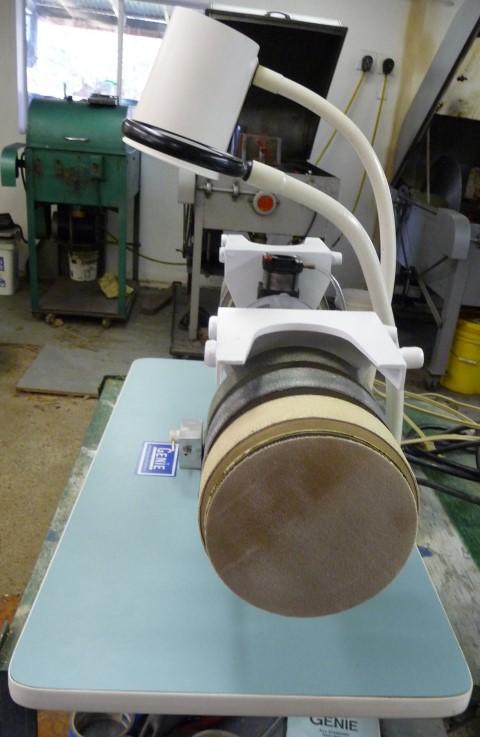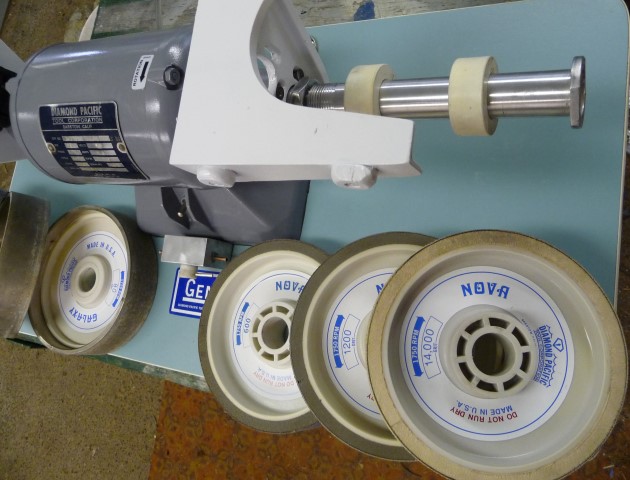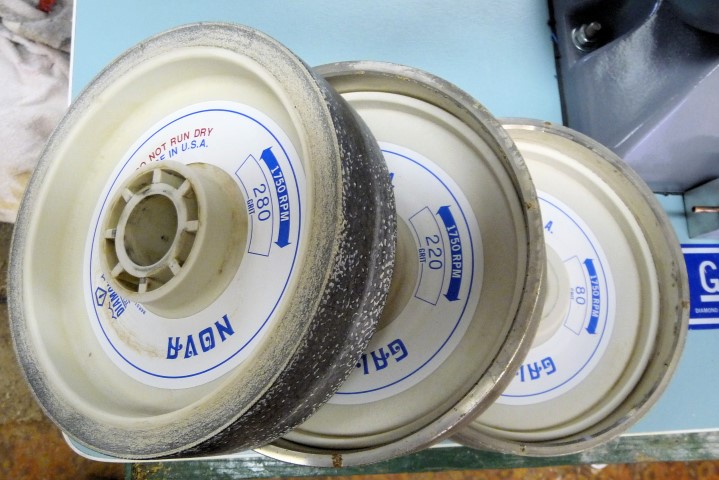 This is the best reconditioned Genie you are likely to ever find for sale! Complete machine for cabochon making, from grinding to polishing. It came to me from a friend's estate and he had tons of rock, thousands of slabs, and a hundred or so cabochons. In other words he liked to dig rocks, slab them, cab some of them, then lost interest in the hobby. So the machine was lightly used to start with. Here's the details:
New base straight from the original shipping box. Pristine motor, 6 used wheels in excellent condition: 80 & 220 mesh hard diamond wheels, 280, 600, 1200 and 14000 mesh soft diamond wheels. A convex polishing pad screws into the right side, you can use it with diamond paste or just glue on a felt pad with rubber cement for cerium oxide. The right side of the shield is removable so you can use the polishing pad (I added wingnuts, makes it much faster to use). Water spray pump updated with new parts from the manufacturer. The knob in the front switches between left and right spray heads. The newer models don't have this which I think is a mistake. Had the worklight and the optional magnifier (you will use this!). Has a cabochon rest for shaping, and the shields and pans have been painted and clearcoated, and the inside of both is sprayed with epoxy for extra durability. There is a little bit of plastic repair on the removable side spray shields. I can give you a quick lesson on my machine if you aren't sure how to use it. I have plenty of tips & tricks with 25 years of experience!
(The current model retails new for around $1900!)
Pickup here Oregon City OR
NEW Covington Model 301 14 inch slab saw blade
$150

Click on the cart to pay with Paypal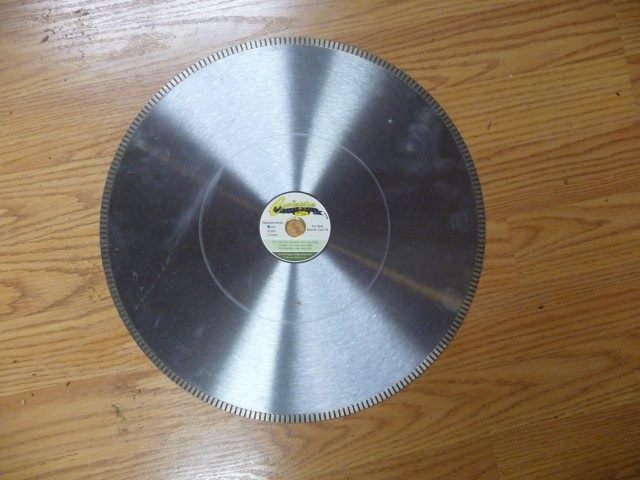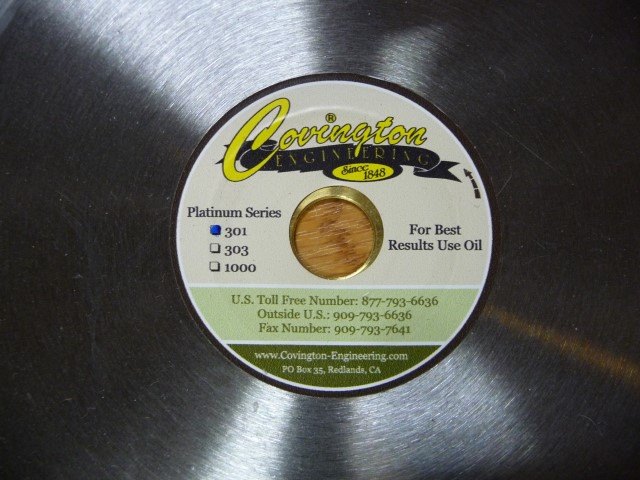 (Retails new for about $235)
Identical to the MK 301 blade series. Came with a saw but I already had an MK lol. 5/8" arbor shaft diameter, 1" if you take the spacer out. Never even been on a machine. Lists for $235 + shipping. Yours for $150 + shipping.
Covington Drop-in Trim Table
$40


This accessory converts a 12, 14, or 16 inch Covington slab saw to a trim saw, all you do is clamp it in the vise and lift the lid to trim your slabs. I bought a new saw and I just don't have a use for it. I don't think you can even buy it separately.
TO EMAIL ME: Type the email address above into your email program. The last character is the number one, not an I. Please note: My email address has changed as of Jan 2010 to once again evade the spammers. The old email address was inactivated soon thereafter so don't use it anymore as I will NOT get your email!
Users may download this World Wide Web page for personal use only. Unauthorized copying or distribution of this page or any of its contents without the express permission of the author is expressly forbidden.